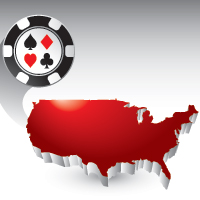 Being able to gamble online is great. You don't have to deal with the costs of traveling, room and board and the higher fees for live games. You can stay at home and play spanish blackjack, slots or whatever you like from home, on the cheap, in your underwear.
Unfortunately, this is easier said than done for US players. Because of the UIGEA, and the laws that each individual state has, American players are having a harder time than ever trying to find a fun and trustworthy casino to play at.
If this is you, we understand your frustration. We're American players ourselves, so we know what you're going through. And we'd like to help.
So what we've done below is list the best US casinos for online spanish 21 and other blackjack games. To get started all you need to do is read the reviews, find the casino that appeals to you the most and use our links to head on over to the casinos. You should be able to get started in, maybe, 30-60 minutes.
We've also created a FAQ section about playing online blackjack in the USA. You can read that further down the page.
FAQs About Playing Blackjack Online in the USA
There's a lot of confusion about the legality of online gambling in the USA. So we get a lot of questions asking if it's ok, what's legal and things like that. While we don't know everything, nor can we give legal advice, we thought it would be helpful to post our answers to these questions. That way you at least have a place to start. We hope you find these questions and answers helpful.
Are US players able to play blackjack online for real money?
Yes. There are online casinos that accept US customers to play for real money. All of those casinos offer blackjack games.
What you might find though is that there are fewer blackjack variations available. There are some variations, like spanish or european blackjack, that are only available at a handful of sites. Unfortunately not all of those sites accept US players.
What about the UIGEA? What's that all about?
The UIGEA is a law that prohibits banks from making transactions to and from gambling sites. It doesn't make online gambling illegal. A lot of people get confused about that. But players can't actually violate that bill. All it does is make it harder for you to get your money off and on the online casinos.
What deposit options do Americans have?
The fastest deposit options to use is Visa, MasterCard or American Express. From my experience it only takes minutes for a deposit to clear and the funds to be ready using credit or debit cards.
Unfortunately, banks know not to process those transactions if they see them. So it's possible that your deposits are declined.
What you can try instead are gift cards, prepaid Visa and MasterCard, or a money transfer service like Western Union. More and more poker sites are offering these options due to credit/debit cards being declined.
Another option for players are bitcoins. Only a handful of sites offer this option now, and none of them are worth playing at. But given that banking is so hard for US players I wouldn't be shocked if bitcoins grew in popularity over the next 6-18 months.
How do I choose the best online casino for blackjack?
We've listed our recommendations above. The sites we recommend are trustworthy, treat players well and have plenty of banking options and games to choose from. If you don't like the sites we recommend or already have accounts at each one, then that's the criteria I suggest using when shopping around for a casino.
Is it safe for Americans to play blackjack online?
Yes and no.
If it's legal in your state / country, and the site you're playing at is trustworthy and known to treat players well, than you shouldn't have much to worry about.
However, if it's illegal for you to play online you do face risks there. Online casinos that use .com for their domain name also face the risk of being seized, right along with your funds. And online casinos do go rouge all the time, which is why it's so important to do your due diligence before signing up.
Overall, as long as you stick with a company that's been around for a couple of years, is licensed and regulated, and uses a non-.com for a domain name, you should be ok.
Has anyone been arrested for gambling online?
To the best of our knowledge, no, no one has been arrested for gambling online. That's not to say that it won't happen in the future though. It's certainly a possibility given that's it's illegal to gamble online in some states.
How do I know if it's legal in my state to play blackjack online?
You can check your state gambling commission. They'll tell you what's ok and what's not. You'll have to do a Google search to find it though. Just type in "your state + gambling commission" and you should get results.
That would be the most accurate way to go. You can also visit this site. He has listed all the gambling laws. There are links in the sidebar to more gambling law resources, too.